A brief glimpse into the realm of the Colour Light Waves, Paul Frieldander's unique invention. Shows include two rare live performances at the Bookery Gallerie, London in 2021 and 2022, mixed with earlier larger installations at Sala Parpallo Gallery's Timeless Universe exhibition in Valencia, Spain in 2006, the Jerusalem Light Festival in 2009, Shambala Festival in 2017 and Puca Festival at Slane Castle, Ireland in 2021.
HAND OF THE GALAXY at BORAS BRIGHT ART, Boras Art Museum, Sweden 28.10.22 -15.01.23. The installation was developed from an earlier work, Spinning Cosmos, presented at Art Futura Roma 2017 with video showing data gathered by Prof Michael Longo of Michigan University from the Sloan Digital Sky Survey, astronomical photos courtesy of NASA from Hubble Space telescope, Waveforms and Digital Creatures.
Additional glimpses of other artist's work in the order they appeared by Yoko Seyama, Aleksandra Stratimirovic, Ema Kobal.
Soundtrack mix from background with music by Leonel Kaplan.
Many thanks to everyone involved and apologies to the other artists not included in this video.
www.boraskonstmuseum.se
paulfriedlander.com
© Paul Friedlander 2022
Hand of the Galaxy spinning waveform kinetic light sculptures at Warm Up Festival 2022 suspended from trees high above the heart of this club scene playing for one long weekend in August in a forest in Hertfordshire.
Performance of Colour Light Waves by Paul Friedlander, music and sounds by Ron Briefel, Georgina Brett and Lady Synth, 9th and 16th April 2022 at the Bookery Gallerie, London.
The Bookery Gallerie London presented a series of evening events to coincide with Paul Friedlander's exhibition, A Spaceship for the Imagination. Paul introduces the Art Science evening held on the 9th April 2022.
Georgina Brett and Ron Briefel performing at Bookerie Gallerie Art Science evening on 9th April 2022. You can check out more of Georgina's live modular choirs at www.georginabrett.co.uk. Ron taught music technology at Morley College for 20 years and is the co-founder of the Bookery Gallerie, London.
Paul Friedlander giving a talk at the Bookery Gallery London on 24th March 2022 as part of a series of evening events held during the Spaceship for the Imagination exhibition.
Puca Festival, Slane Castle, Ireland, 2021
Warm Up Festival - Hertfordshire August 2021 A weekend house music festival held in a woodland area not far from London.
During the lock down I temporarily stopped making light art. Instead I went for many long walks and took photographs of the natural forms I encounted. Here is a slide show made from some of the thousands of photos taken while taking repeated walks on a wild section of England's south coast - a rock strewn beach with endless varieties of natural sculptural forms thanks to a varied geology. Almost every colour from the brightest red through green seaweed to the occasional purple rock, no blues so far, I will keep looking.
Mars and Beyond - London 2020
Paris Fashion Week 2020
Iris van Herpen invited Paul Friedlander to design the scenery against which her new collection was shown.This video may not be available here but can be seen on Youtube.

EVENT TWO 2019, Royal College of Art, London
Light Art District Skopje North Macedonia
FIELDS experimental collaboration with dancers Giacomo Luci and Paul Vezin
dancers with Opera Lyon
Music by Jean-Pierre Barbier and Ulysse Junek
Light Harp at Shambala Festival, Near London, 2017
Spinning Cosmos with Digital Creatures at Art Futura Roma 2017
Running in Circles, Dancing in Waves, a dance performance created in collaboration with the principal and students of Showit Dance Acedemy, Almada; music and choregraphy by Zoot Lynam, Lumina Festival, Cascais, Portugal, September 2016. Video shows entire performance (20 minutes)
The New Art Foundation, with the support of Eurecat and funded by the Beep Electronic Art Collection, announced an open call for applicants for a research and artistic production grant for the 2015-2016 year. The objective is to connect artists, scientists and engineers so that the artistic and scientific methods may converge, creating new lines of knowledge that culminate in the development of a new work of art. The winner, Paul Friedlander is involved with an ongoing collaboration. The time line has been extended and will continue in 2018.
Much of my work in the noughties involved projection of animation in unusual ways, onto kinetic scuptures. More recent installations continue to include unusual video projection, here is an extract from the animation for the Digital Creatures shown in Art Futura Roma in 2017.
Kinetica Museum presents Gravity, an exhibition at the Hospital Club, London 2015.
Setting up Wave Garden, my first ever major outdoor light installation at Cascais Light Festival in Portugal 2014.
Proposal for an extraordinary mirror room. Most people may have stood inside a conventional mirror room with its multiple reflections stretching off to infinity. I asked myself what it would happen if the mirrors were tilted. Depending on the tilt, various surprises await us. There is an unexplored world of non perpendicular mirror rooms waiting to be created. In this animation I used the physics of mirror reflection to hint at some of the many rooms that are possible.
I developed this idea as a proposal for a new musuem being built in Brazil. In the end they did not choose to go ahead with it. The animation was completed at the end of 2012 and I kept it secret all these years in the hope that I might yet build the mirror room and astonish the world. The idea awaits a good sponsor to bring it to realisation.
Spinning Cosmos: Installation and excerpts from a lecture given at MUMI, Montevideo, November, 2012.
Spinning Cosmos set up and under test in my London Studio, 2012.
Origin of String Theory: interactive installation, phaeno science centre, Wolfsburg, Germany, 2012.
String Waves at the Chicago Museum of Science and Industry: 26 feet tall, touch screen controlled light sculpture opened 18 March 2010.
Abstract Cosmology at the first Jerusalem Light Festival, 2009. Light art was spread out all around the old city and environs. Abstract Cosmology was in Archaeological Park which just outside the Temple Mount. The Wailing Wall and Al-Aqsa Mosque can be seen in the background.
Timeless Universe at the Sala Parpallo, Valencia, Spain: Emersive installation in tunnel shaped gallery space, 17 May - 9 July 2006.
The Light Tree: computer simulation of proposed new installation to be sited in an open space on the East India Dock Road, London. Sponsored by Splash Arts in association with Tower Hamlets Council.
Abstract Cosomology: Installation created for maquinas&almas exhibition, Reina Sofia Musuem Madrid, 26 June - 13 October 2008.
Enigma of Light: Installation created for Souls and Machines Exhibition (Maquinas & Almas), Museo Reina Sofia, Madrid, 26 June - 13 October 2008.
Lecture given at Media Lab, Prado, Madrid, 27 June 2008.
Submission to Prix Ars Electronica 2005. Computer animation created using the Artist's custom software.
Experimental hand held light sculpture, London studio 2004.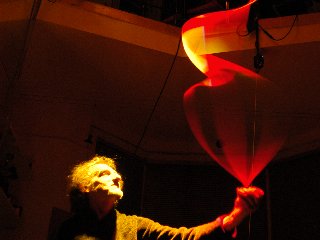 Experimental hand held light sculpture 2, London studio 2004.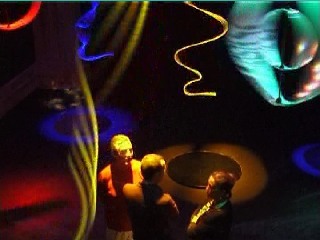 Exhibition in Gijon, Spain 2003.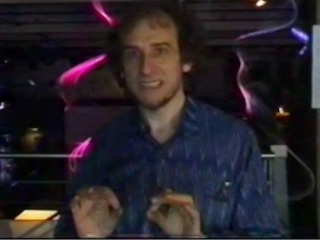 Maison Des Arts, Creteil, Paris, 2001. Interview with the Artist.
Dark Matter at Lightforms 98, an international competition to create interactive light sculptures on a monumental scale organised by ASCI and hosted by The New York Hall of Science.