In the summer of 1993 British Telecom commissioned a large fibre optic sculpture which was exhibited in the foyer of their head office in London, as part of the Art in the City project. Located a few hundred metres from St. Paul's Cathedral, at night time BT's vast atrium window was lit up with this strange 'burning bush'. BT wished to show a work made with fibre optic as it was the new telecommunication medium.
This was the first project where I used a computer control system, utilising a PC with a digital to analogue converter and an industrial digital servo system. Software was developed providing a graphic user interface which gave clear and precise control of the system parameters. This made it possible to program long and complex sequences of the light sculpture's activity without any repetition... organised chaos. In 1994 my work was shown at The Light Fantastic exhibition in Walsall, near Birmingham, England, a group show of a selection of British artists currently working in this field. A number of my sculptures were selected for 'Lichtspielereien' a hands-on exhibition at Technorama, the major science museum in Switzerland . Some of these works were purchased and are now on permanent display.
Technorama next commissioned a large permanent installation for their new Textile section which opened in December 1995. Named The Light Spinner, this is an imposing interactive light sculpture which stands about 4 metres high at the front of the Textile Section of the Museum. Using three 'strings' spinning between two large circular mirrors, one mounted on the floor and one suspended from the ceiling to create an 'infinite' tower of reflections. The illustration on the left shows the reflections, the right shows a close up.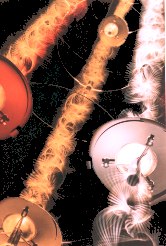 A touch screen computer is used to control The Light Spinner with interactive and non-interactive modes. In the interactive mode, at a touch of the screen, all three 'strings' can be changed to different colours in varying combinations of activity. Left alone the non- interactive mode will start to control the sculpture automatically. This enhances the eye catching quality of the work, insuring that there is always changing activity.
1995 also saw the completion of a smaller piece, Light Wave, using the same control system as the Light Spinner. It is a free standing sculpture 2.5 metres tall. It was first exhibited unfinished without a computer in Japan at Artec '95 in where it received a Recommendatory prize. After completion it was shown here in England.
In 1996 using the computer programming language Delphi, I created, Zip Art which lets you draw surprisingly subtle and beautiful images and Visual Music using special drawing tools I have developed. Go to Java Zip to get a taste of what this is all about. Java Zip is an interactive Applet written in Java. You can try out a selection of the special drawing tools available with Zip Art. On many of the Web site pages you will see small images made with it. In the Picture Gallery you will find larger images drawn with Zip Art.
These pages have described a selection of activities from early parts of my career. For information about work since 1996, follow the links in the
" THE FUTURE OF ART IS LIGHT " Henri Matisse
You can download ZIP ART for Windows free.
Download Now ZIP file format, 800 KB.

Home Page | Zip Art | Gallery Guide | What's New